New M.D. Fire Truck
Ready to Serve Rural Area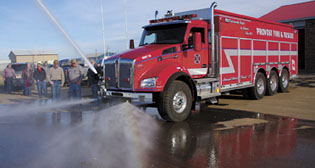 Provost volunteer firefighters got a good look at their new fire truck supplied by the Municipal District of Provost. The truck, shown here demonstrating its three front nozzles is designed to quickly put out stubble, grass, ditch and bush fires in the country (see also PN April 8). The new truck arrived late Thursday afternoon, April 16. Administrator for the M.D. Provost No. 52, Tyler Lawrason told The News that the unit cost $537,000 and noted that council had talked "extensively" about the need for extra water carrying capacity. Planning to obtain a new truck began in August 2013 with a tender awarded on December 12, 2013. This truck holds 5,000 U.S. gallons of water (4,163 Canadian or Imperial gallons). ©Provost News Photo.

See inside the print edition of The Provost News, April 22.
Want to Subscribe to The Provost News? Click here.

Give Your Opinion on our website to this question:
If a provincial election were held soon, what party would you vote for?
More pictures, stories can be found in the print edition of The Provost News, April 22, 2015 including:
• Contractors, Businessmen Hear About Wind Farm Construction Plans
. . . Project Expected to Generate $350,000 in Annual Taxes to Local M.D.

• Farmers' Freedom to Market Wheat and Barley 'Validated' by Supreme Court . . . Wheat Board Sold
• Employment/Careers
• PPS Students Explore Eastern Canada
• Plenty of Comment and Letters in the print edition.

Get more stories by subscribing to The Provost News? Click here.
---
This photo shows some people who were at a vendor open house organized by SkyFlo Consulting — hired to construct an $80 million wind farm project northeast of town. The crowd a short while later sat down to hear about building plans and possible business opportunities from SkyFlo Consulting spokesman Dave Willms. The meeting was held on Friday afternoon, April 17 with an overview of the project beginning just after 6 p.m. in the Alberta Room at the Provost Recreation and Culture Centre. The day before, BluEarth Renewables Inc. of Calgary representing its subsidiary 1646658 Alberta Ltd. held an open house in the same place to update people about its proposed venture which will see 17 turbines spinning to generate 29.2 MW of electricity. Story in the print edition. ©Provost News Photos.

See inside the print edition of The Provost News, April 22.
Want to Subscribe to The Provost News? Click here.
---
Street Spokesman


This week we ask: "

What Do You Like Best About Flying Kites?"


. . . and readers heard answers from Denver Chopek, twins Brenna Davis and Emma Davis and Dawson Parsons. Check out the

April 22

edition of The Provost News for their answers.
Want to Subscribe to The Provost News? Click here.
---
This, along with many other stories and pictures can be found in this week's edition of TheProvost News.
Subscribe to the award winning paper by clicking on this link and following the instructionson our secure on-line ordering centre.
Take me to the Secure On-Line Ordering Centre. Click here.

---


(Please note, only one vote per internet service provider is allowed. View results first, then vote to see your tally reflected by viewing again)

Message from the Editor
The Provost News editor gives you quick look at some of the new features on provostnews.ca
---
Submit News, Letters, Photos
Information on submitting news stories, Letters to the Editor, and photos to The Provost News.
---
Advertising Your Message
For information about advertising in the paper, or on the web, click here.
---
Professional Websites
Information about getting a professional website for your business.
---
Subscriptions
Subscribe or update your mailing address here.
---
New to Provost?
Let us give you a quick tour of your new community.
---