Precision Work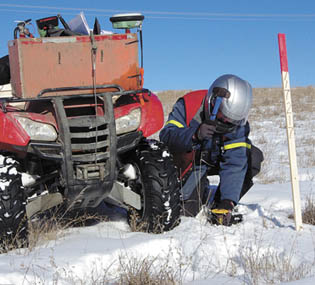 There appears to be growing activity in the local oilpatch with more surveying of lands taking place. Here surveyor Terrace Sutherland was seen making his mark on farmland northeast of Provost recently. He said that a crew of 10 people working nearby was wrapping up the project after approximately a week and a half. After that Sutherland was headed to the Metiskow area for more surveying. Next on the marked sites, seismic workers were to appear, putting their expertise to work. Following that detailed information will be studied carefully by an oilfield company before a final decision is made to drill for oil in this or other nearby locations. ©Provost News Photo.

See inside the print edition of The Provost News, February 22.
Want to Subscribe to The Provost News? Click here.
---
More pictures, stories can be found in the print edition of The Provost News, Feb. 22, 2017 including:
• Hughenden Jets First inEast Central Senior Hockey League
• M.D. 52 OKs West Fire and Rescue Budget
• Carbon Tax Impact More Pronounced in Rural Areas—Superintendent
• Employment/Careers
• No Lots Sold by Town of Provost During 2016; Building Permits Down

• Men's Basketball Tournament Held Over Weekend
• Augering the Ice at Dilberry Lake

Get details of these and other stories by subscribing to The Provost News Click here or call 1-780-753-2564.



---
Defending
The annual Provost invitational tournament ran from February 17 to 19. This photo shows some of the action on Saturday morning, February 18 as Edmonton defends against a Provost attempt on a basket at STA School gym. Edmonton won this game 108-72. At the same time but on the court at the Provost Public School gym (not shown here) the Lloydminster Bricks men's basketball team took on the Elk Point Pacers. The Lloydminster team won that game 75-67. ©Provost News Photo.

See inside the print edition of The Provost News, February 22.
Want to Subscribe to The Provost News? Click here.
---
Street Spokesman


This week we ask: "

What is the Best Thing About Being Young?"


. . . and readers heard answers from and readers heard from Jacob Kleinsasser, Meredith Broadfoot, Noah Heinrich and Trysta Isaacson. Check out the February 22, 2017 print edition of The Provost News for their responses.
Want to Subscribe to The Provost News? Click here.
---
This, along with many other stories and pictures can be found in this week's edition of The Provost News.
Subscribe to the award winning paper by clicking on this link and following the instructionson our secure on-line ordering centre.
Take me to the Secure On-Line Ordering Centre. Click here.

---


(Please note, only one vote per internet service provider is allowed. View results first, then vote to see your tally reflected by viewing again)

Message from the Editor
The Provost News editor gives you quick look at some of the new features on provostnews.ca
---
Submit News, Letters, Photos
Information on submitting news stories, Letters to the Editor, and photos to The Provost News.
---
Advertising Your Message
For information about advertising in the paper, or on the web, click here.
---
Professional Websites
Information about getting a professional website for your business.
---
Subscriptions
Subscribe or update your mailing address here.
---
New to Provost?
Let us give you a quick tour of your new community.
---