Mental and Physical Workout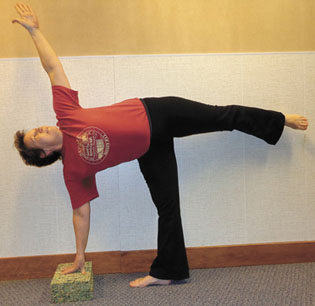 Instructor Shirley Gerein shows a yoga pose at the Provincial Building in Provost during a recent session. Yoga is the physical, mental, and spiritual practices or disciplines which originated in ancient India with a view to attain a state of permanent peace. The yoga widely known in the West is based on hatha yoga, which forms one aspect of the ancient Hindu system of religious and ascetic observance and meditation. Gerein was teaching ways to improve posture, flexibility, co-ordination and achieving balance between body and mind. Thesessions were offered this fall by Provost Adult Learning & Literacy (Eastpark Educational Opportunities Council). ©Provost News Photo.

More pictures inside the print edition of The Provost News, December 4.
Want to Subscribe to The Provost News? Click here.

In the December 4 print edition of The Provost News:
• Bronze for Provost Hockey Player at National Competition
• Employment/Careers
• Pudge Says "Every time I sign on to the Internet, I get a note that says my computer is slow. If they knew how slow the operator (me) is, they wouldn't say anything."
And Lucie points out: If you're a female anywhere near my age, you'd have had a crush on Edd "Kookie" Byrnes.
• Town Librarian Retires
• Hughenden Author Lori Knutson Finishes Sequel to Young Adult Novel

• Provost Agricultural Society receives $50,000 to help pay updating restrooms, kitchen and lighting at the Agriplex. MLA for Battle River-Wainwright, Doug Griffiths brought the provincial money to Provost Ag. Society vice-president Jim Schon on behalf of the Minister of Agriculture and Rural Development Verlyn Olson. Griffiths also met with others and two of the topics he heard about included the local hospital and road maintenance issues including ice and snow on Highway 13 during the winter.
Get more stories by subscribing to The Provost News? Click here.



---
Breathing Easier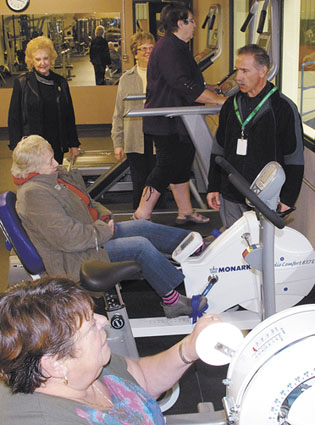 Part of a program to help with breathing through exercise and information are these people, from bottom left, clockwise: participants Edith Scammell, Fay Jickling, Joan Froland (Primary Care nurse), Marj Melin (physiotherapist), participant Doreen Heck and respiratory therapist Steve Avramovic of Vermilion who visits Provost to help users of the program. Story in the print edition. ©Provost News Photo.

Photo in December 4 edition of The Provost News.
Want to Subscribe to The Provost News? Click here.
---
Street Spokesman
This week we ask: "What Do You Like About Yoga?"
. . . and readers heard answers from Bev Holte, Shirley Gerein, Marti Read and Winnie Johnson. Check out the

December 4

edition of The Provost News for their answers.
Want to Subscribe to The Provost News? Click here.
---
This, along with many other stories and pictures can be found in this week's edition of TheProvost News.
Subscribe to the award winning paper by clicking on this link and following the instructionson our secure on-line ordering centre.
Take me to the Secure On-Line Ordering Centre. Click here.

---


(Please note, only one vote per internet service provider is allowed. View results first, then vote to see your tally reflected by viewing again)

Message from the Editor
The Provost News editor gives you quick look at some of the new features on provostnews.ca
---
Submit News, Letters, Photos
Information on submitting news stories, Letters to the Editor, and photos to The Provost News.
---
Advertising Your Message
For information about advertising in the paper, or on the web, click here.
---
Professional Websites
Information about getting a professional website for your business.
---
Subscriptions
Subscribe or update your mailing address here.
---
New to Provost?
Let us give you a quick tour of your new community.
---