Bantam Hockey Club Wins Provincial Hockey Title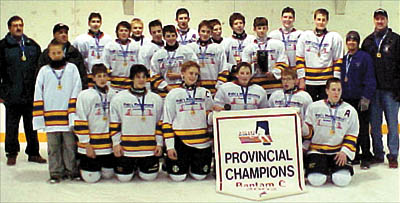 Provost's Bantam hockey club after their gold medal win at Bow Island on the weekend. Back row, from left: Jordan Acton, Mark Scammell, Brett McInnis, Tyler Peat, Brian Borton, Andrew Rab and Dwayne Harper. Middle: Tom Kohlman (manager), Fred Nelson (coach), Trevor Chopek, Trent Mayer, Chad Nelson, Brett Peat, Derek Bouma, Kevin Ganser (assistant coach) and Kyle Pilgaard (assistant coach). Front: Ryan Hala (gopher), Cash Prediger, Brad Schumacher, Mark Nelson, Shawn Pilgaard, Cole Angeltvedt and Brad Kohlman. Photo by Terry Schneider.
—For 2nd Year In Row

The Provost Bantam Hockey Club has won first place in provincial finals for the second consecutive year.

The playoffs were held at Bow Island over the weekend.

The Pahl's Maintenance Bantam C hockey club, was coached by Fred Nelson who told The News on Monday that the winning team had a commitment to defense and had demonstrated a "real good overall team effort."

In the second period of the final game he knew they were going to repeat as gold medal winners. "It felt great" Nelson recalls, as they were up six or seven goals to zero.

He didn't really think at the start of the year that they would win gold again "but things worked out very well."

On Friday morning Provost defeated last year's silver medalists, Smoky River 7-2 and then in the evening Provost beat the host Bow Island 7-1.

More of story in Print version in March 13 edition of The Provost News
Want to Subscribe to The Provost News? Click here.