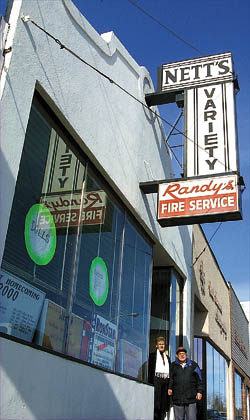 Nett's 1919 Downtown Property Being Sold

One of Provost's oldest original business operations is being sold as the owners are retiring.

Owners of Nett's Variety and Clothing store, Wilf and Edith Nett will mark the end of an era when the property and building is sold to Tom Ward of Provost effective March 15.

Merchandise will soon be cleared out by an auction sale.

Wilf's father, Peter B. Nett bought the Main Street property and a small store on the site in 1919. He was a jeweler (born in Minnesota in 1892) who served the community for 55 years. In 1944 the original store was sold to Les Yeates who had the building moved. The contents of Nett's store was moved temporarily to Lindberg's store on the other side of Main Street and a new building was put up on the original property in 1944.

More of story in Print version in March 6 edition of The Provost News
Want to Subscribe to The Provost News? Click here.