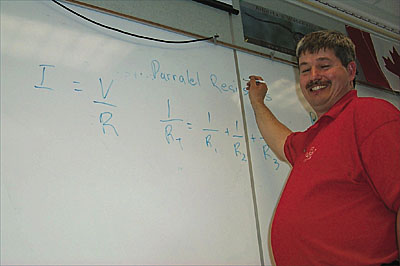 Dave Levitt takes his usual position at the front of the room at the board. He recently finished university, switching careers to find himself back in the classroom. ©Provost News Photo.

Provost High School graduate back in 1971 and then a farmer for a few decades, David Levitt thought hard—and then at age 46 packed his bags and went back to school. Now he's teaching it.

"Life's always a surprise, you never know" Levitt says when asked if he thought about being a student, then a farmer, then a student and then a teacher.

The decision to return to university was a hard one for the Hayter farmer he says in an interview with The Provost News. "It was risky, especially with a family." Some of his friends thought he was crazy, some thought hehad guts to go back to class when his hair was turning grey. His family however was supportive but his father Norman had reservations.

When Levitt was in his first year in Edmonton attending the University of Alberta and riding a bus he once stopped to think "why was I doing this?"

He wondered how he was going to be treated by classmates young enough to be his children so he was a little anxious when he first showed up. But he was treated "very well". The key was...