Oh, Oh, Oh!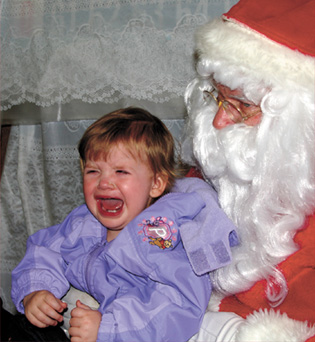 The waterworks were set to "wail" when this girl was placed upon kind old St. Nick's knee. But mom was close at hand and swooped in to rescue the toddler who was among an estimated 170 children who appeared at the Legion Hall on Saturday afternoon. Two free shows held at the local theatre and the northern visit were co-ordinated again this year by the Provost and District Chamber of Commerce. ©Provost News Photo. More photos in December 10 edition of The Provost News. Want to Subscribe to The Provost News? Click here.
RCMP Holiday Checkstops to Target Impaired
Drivers With New Roadside Device
Provost RCMP will again be out on patrols this holiday season trying to keep impaired drivers off roads in town and across the M.D.

Police told The News in an interview that they will hold periodic checkstops.

Electronic roadside screening devices will be used to detect levels of alcohol in drivers. Police here have a new unit to perform that duty: an Intoxilizer 400 that has been in their possession since October. If the unit detects a certain amount of alcohol drivers will be taken to the RCMP office where a more advanced unit called an Intoxilizer 5000 would be used to determine the level of alcohol in a person's blood. Digital readouts will show if the legal limit of 80 milligrams per 100 milligrams of blood is in a driver's system.

Although the Provost area has an average rate of impaired drivers in Alberta, Sgt. Jim McDonald says that the effects of drunk driving "are sad because it's 100 percent preventable." He points to a fatality that occurred in August where the driver in a rollover was over the allowed alcohol limit.

Constable Terry Link adds that people should be careful if they had been consuming alcohol in the night—and then take a vehicle out the next morning because they could still be impaired at that time, depending on how much alcohol was consumed.

Cases that are marginal and police suspect that a driver is close to the legal limit without testing could mean a 24 hour driving suspension.

Alberta police services operate the Checkstop program year-round. In addition to regular police patrols designed to get impaired drivers off the road, enforcement agencies set up check points on streets and highways where vehicles can be stopped at random. Checkstop locations are changed frequently and seldom operate in one area for more than a few hours. If police believe a driver is impaired, they can ask the driver to take a breath test.
"The Checkstop program acts as a sober deterrent to impaired driving," says Jeanette Espie-Lefebvre, executive director of Alberta Transportation's Traffic Safety Initiative. "Impaired driving is a serious crime that has severe consequences."

The Alberta Administrative Licence Suspension (AALS) Program is legislation designed to keep impaired drivers off Alberta's roads. Under the AALS program, the consequences are: 1. An automatic three-month administrative suspension if you are charged with having a breath or blood sample over .08, or refusing to provide a breath or blood sample; or 2. An automatic six-month administrative suspension if your actions caused bodily harm or death.

If you have a valid Alberta driver's licence, a 21 day temporary permit is granted before your suspension begins. This gives you time to get your affairs in order before the suspension starts. The administrative suspensions are in addition to the court-imposed driving suspension upon conviction of a criminal impaired driving offence.

Appeals will only be considered if drivers can prove: 1. They did not produce a breath or blood sample that was over .08; or 2. They did not refuse a demand to supply a breath or blood sample; or 3. They were not driving or in care and control of a motor vehicle.

• Designate a Driver
There are alternatives to drinking and driving. Designate a driver who will not drink any alcoholic beverages before and during an outing, take a cab, use public transit, or call one of the community organizations that offer to drive you and your vehicle home safely. If you socialize at private homes, licensed establishments or special events, the key is to plan your outing ahead of time.

If anyone suspects a motorist is driving while impaired, they can be reported to the nearest RCMP detachment.

Full story and pictures in December 10 edition of The Provost News.
Want to Subscribe to The Provost News? Click here.