Gold, Silver Medals for Local
Archers at Zone Competition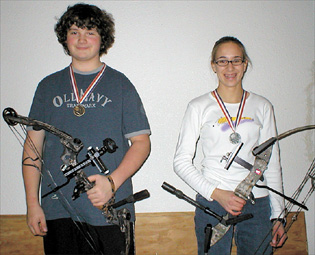 Two local archers competed in Zone 7 archery competitions at Lac La Biche on December 6 and Daniel Klein came home with a gold medal and Kaitlyn Ganser earned a silver.
Klein competed in the boys 14 years and under category while Ganser was in the girls 17 years and under competition.
Full story in December 17 edition of The Provost News. Want to Subscribe to The Provost News? Click here.
Holmes Defends Provincial Weightlifting Titles
Weightlifter Brett Holmes has defended two provincial titles at this year's Jr. weightlifting championships held in Edmonton on Saturday, December 13.

The 20 year old Provost man competed in the Alberta Weightlifting Association's tournament that included male and females, hosted by the Balwin Fitness/Power Training Club.

He came away successfully completing all his lifts and was presented gold in the 77 - 85 kilogram weight division. He lost over two kilograms during the previous week to ensure that he remained in the same weight category as last year, and weighed in at 83.36 kgs (183.5 pounds).

A seniors competition was held simultaneously at the same location.

All junior competitors (ages 20 and under) were also eligible to receive awards at the senior level (ages 21 and over) and Holmes captured the silver medal in overall male in his weight class.

Holmes' main goal however was to again take home the Best Lifter Award for juniors and by the end of the competitions he did just that. "I was relieved that I could do it despite injury." He wasn't able to seriously practice the last month and a half because of tendonitis in both wrists and thumbs.

Weights he lifted included: 97.5 kgs (approx. 214.5 pounds) in the snatch event; and 122.5 kgs (approx. 269.5 pounds) in the clean and jerk event. All lifters got to have a total of six lifts (three attempts in each event).