Little Drummer Girl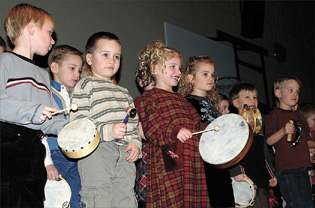 A little drummer boy looks towards a fellow classmate while performing for a crowd of parents, grandparents and teachers at this year's carol festival in the Provost Public School. ©Provost News Photo. Print version in December 24 edition of The Provost News. Want to Subscribe to The Provost News? Click here.
Editor's 2003 Christmas Wish List
• Some snow for the snowmobilers.

• A huge U.S. market for live cattle returned to livestock growers.

• A lump of coal for those who insist on putting paint on buildings that don't belong to them.

• An improved Provost News.

• That economic report called Rural Alberta: Land of Opportunity dealing with East Central Alberta that was promised us by our MLA Doug Griffiths and our deputy premier—way back in September.

• Continued activity in the local oil patch.

• The purchase of all those Empress of Ireland artifacts by Canadians —not foreigners—so the owner of them can take his money and retire.

• More beautiful spaces built for an aging population so our friends and relatives don't have to move to other centres for care.