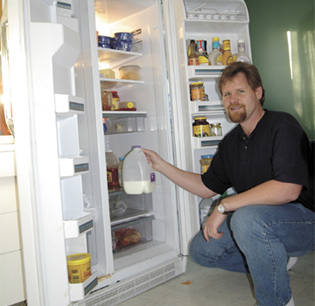 One of several clergy in Provost, Pastor Andy Weibe hopes that food will be donated to fill up shelves for people needing it. ©Provost News Photo. Print version in December 15 Edition of The Provost News. Want to Subscribe to The Provost News? Click here.
---
Clergy Organizing New Food Bank Service
Different From Christmas Hampers, Starts Next Month
A new food bank in Provost to begin operations in town next month will be operated by the clergy of the Provost Ministerial Association.

The Provost Ministerial Association Food Bank is being created because of a genuine need, says spokesman Pastor Andy Wiebe.

For some people to see such a group formed it may not make sense, says the pastor of the Provost Community Church "because there's so much work around." But he points out, the need for a food bank can be driven by unforeseen needs such as a medical emergency or a single parent that may be having trouble coping.

The Provost Ministerial Association has over the years operated a voucher program that will continue to operate in tandem with the new food bank.

Vouchers may still be handed out to people here or to transients who need immediate help for items like fresh eggs and milk—but no candy or tobacco products will be offered.

The food bank, to be set up mainly for local residents has already been called upon to supply three people with items.

Wiebe says there may not be a heavy use of the food bank "maybe 10 people a year" but on the other hand he notes some of those people could be repeat users, depending upon circumstances. The Family and Community Support Services (FCSS) have dealt with people that require assistance as well and those people might soon be directed to the new food bank.