Net Work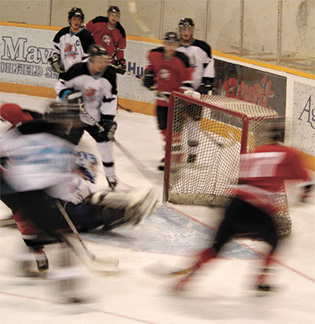 The Blades' Wes Ganser (right) finds an open net while on the attack against the Sedgewick Sabres senior hockey club on Thursday night. The Blades overpowered the visitors by a final score of 11 to 4, but the Sabres did not have many players out that evening. Provost made the playoffs and will be in Big Valley tonight (Wednesday) with the second game in Provost on Friday. Castor, Hughenden and Sedgewick did not qualify for the league playoffs. Details "With the Greenhead Blades Hockey Club " in February 11 edition of The Provost News. ©Provost News Photo. Want to Subscribe to The Provost News? Click here.
Research Park Could be Established at Bodo
. . . Archeologist Tells Society
A new group heard at its second formal meeting on February 5 that it has gained society status.

The Bodo Archeological Society met in the Bodo Community Centre on Thursday night and welcomed two archeologists who have been working on the Bodo site and are now working with the new society.

Archeologists Terry Gibson and Beth May of the Edmonton area talked about developments since a letter was written to Gibson by the society dated January 15.

Gibson (who holds a Doctor of Philosophy) said that many of the issues raised in the society's letter could be addressed by either him or the University of Alberta. There were still some issues to work out, however.

May said that some work had been done on a web site for the Bodo dig while Gibson, speaking for the U of A says that the Bodo site is a relatively cheap one for students to attend to take some archeology courses hands-on.

He said that this year the U of A is planning a six week basic field school as well as an advanced school on site south west of Bodo.

The main field school will be conduced May 25 to July 2 and it's expected that 20 students will attend. An open house is planned for July 1, much like last year. The second field school is planned for July 12 to August 20 for advanced studies. Approximately 12 to 15 students will be expected for that school that will be "fairly innovative and doing advanced things" added Gibson, who is also an anthropologist and operates his own private company called Alberta Western Heritage Inc. of St. Albert.
A lab processing of materials dug out of the ground will also be held at the Bodo Community Centre.
The Bodo Archeological Society is trying to find $120,000 to help pay for a backlog of cataloguing, analysis and reporting required by Alberta Community Development before it issues new excavation and research permits for the Bodo sites.

Gibson also talked about his relationship with the U of A and the time he has put in so far at no charge.

The bulk of the digging involves artifacts that are about 1,000 years old, and some that are 3,000 to 4,000 years old.

Rest of story and picture in February 11 edition of The Provost News.
Want to Subscribe to The Provost News? Click here.