Hillcrest Doors Locked to Prevent Illness Spread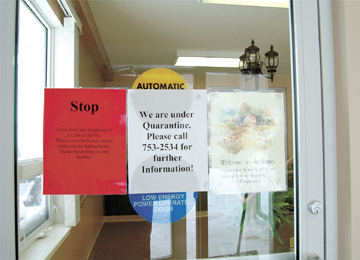 The sign at the locked front door (top) informs visitors to Hillcrest Lodge that a quarantine is in effect (that began on Sunday). ©Provost News Photo. More photos in January 28 edition of The Provost News. Want to Subscribe to The Provost News? Click here.
• 22 Residents Sick
The front door at Hillcrest Lodge in Provost was locked and the building quarantined in a bid to stop the spread of a sickness that has influenza-like symptoms.

The quarantine took place Sunday morning January 25 and was a decision of chief administrative officer Bonnie Aker and area health inspector Gordon Corcoran after the spread of a stomach illness that appeared, causing vomiting and diarrhea among residents in the building.

Testing is being done at a laboratory to determine the exact cause of the illness that apparently caused the sickness of 22 people.

Aker said that two residents became ill on Thursday at noon and two more that night while an estimated eight more became sick early Friday and another one on Friday evening. On Sunday, 11 more people became ill.

Two people from Hillcrest Lodge were hospitalized on early Friday but returned on Saturday morning.

Only one staff member has become ill.