Flying High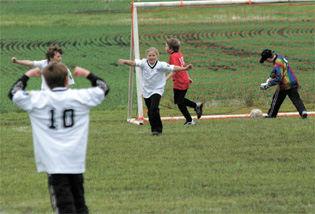 A Provost player raises her hands in celebration after she kicks the soccer ball into the net on Sunday during a tournament held at Cadogan. Provost was taking on Wainwright in this gam. A bagpiper sounded the music for the awards ceremony. The round-robin play of four teams was organized by the Provost Tornadoes 10 and under group said Peter Wolfe, manager. More pictures in June 16 edition of The Provost News. ©Provost News Photo. Want to Subscribe to The Provost News? Click here.
---
Keller Sets New 21K Road Race Record
• Woman Attacked by Dog Finishes Run
Former Provost resident Derek Keller of Calgary set a new half marathon road race record at this year's event in town with a time of 1:25:13.

The previous 21 kilometre record holder in the annual race held in Provost was Bill Perry (2003) who had a time of 1:27:03.

Keller said that he and his wife had earlier this spring competed in a Banff to Calgary relay run so it "was fun to come home and run." The Calgary man said that mud on the course made his shoes heavy. He's been running for about three years.

Two races were staged Sunday morning, June 13: a 10 kilometre race and a 21 kilometre race.

Taking first in the 21 kilometre race for women was Veronica Pinkoski of Wainwright who fought off a dog attack in town after about eight kilometres. Her time was 1:41:49.

Pinkoski told The News that she was attacked by a "big black-grey and fluffy" dog that bit and punctured her upper leg. "It barked just before it bit my leg . . . I screamed and it went away." The runner, who competed in the Boston Marathon this spring said that the attack episode slowed her down a bit as did some mud because of recent rains. After the race she was taken to hospital.

Taking first in the men's 10K was Brent Hope of Red Deer with a time of 43:39. This was his first time ever in a 10K race and has taken up the sport only recently. He said he was happy with his time but it "was a bit muddy" out on the track that went from downtown Provost to nearly the cemetery and back.
With an unsaid goal of beating her husband Wes, Nicole Ganser found her time fast enough to take first place in the women's 10K race. Her time was 46:03. (Yes, she adds, she passed her senior Blades star hockey player husband somewhere out on the course).

"It felt good" Nicole said, "You just had to detour around it (the mud) . . it wasn't bad." She runs every day for 45 to 60 minutes. She won this division after two other tries.

Meanwhile Phil Hansen of Hayter, the 2002 half marathon winner who was trying to improve his time told The News that he is slowing down slightly. The mud, he points out "was brutal. It doesn't do any good for (achieving) record times." He's ran in all five of the races organized here by Calgary resident Kari Gregory. He says that "I like to think that I'm getting better."

Gregory—who was unable to run again this year because of knee surgery—still holds the women's 10K record (41:47, set in 2001) said that the number of runners was up this year with 133 registered. Of those, seven ran the half marathon.

The oldest runner was 70 year old John Wight of Hughenden while the youngest was seven year old David Erasmus of Provost.

Gregory adds that her committee received good overall community support and she was "very happy" with the number of runners this year.

Asked about the dog attack on a woman runner, Gregory says that "no one running or walking should have to worry about that . . . whether someone is out racing or just out for a walk." She said the runner demonstrated "a real show of endurance . . . the real mind-set of a runner" to complete and win her race.

Print edition and photo in June 16 edition of The Provost News.
Want to Subscribe to The Provost News? Click here.