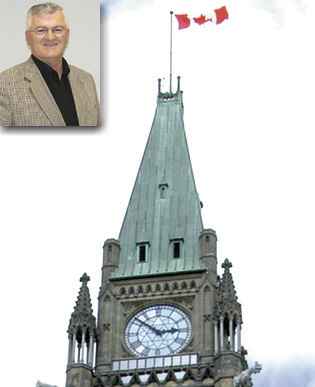 MP Leon Benoit (insert) and Ottawa's Peace Tower. More in June 30 edition of The Provost News. ©Provost News Photos. Want to Subscribe to The Provost News? Click here.
---
Benoit Wins Over 73 Percent of Vote
Liberals Will Form Minority Federal Government
Leon Benoit of Mannville is the new Member of Parliament for the Vegreville-Wainwright Constituency with a win of 73.54 percent of the vote in Monday night's federal election.

He represents the Conservative Party of Canada and because of constituency boundary changes takes over in this area from Kevin Sorenson who was also elected in Monday night's federal election.

At press time late Monday night June 28 and with not all polls reporting, Benoit showed 33,800 votes while in second place was Liberal Stewart Duff with 5,394 votes (11.74 percent) while third place was New Democratic Party's Lenard Legault of the Ribstone-Chauvin area with 3,789 votes (8.24 percent). Fourth place was Jim Kenney of the Green Party 2,976 votes (6.48 percent) .

These numbers will likely change during a recount.

Benoit was contacted by The News immediately after he voted at 2 p.m. on Monday and he said that he was feeling "pretty good" about the local election. He said that during the campaign he received "marvelous support" so that he had to be confident. But he said he was "on edge" over the national results that were yet to roll in.

After most of the results did roll in, Benoit said from Lloydminster in a telephone interview late that night that "it was a great result locally. Terrific." Defeating his closest rival by a margin of "more than six to one "has to be pretty thrilling."

But he was "very disappointed of course nationally." He said that their party had hoped for substantially better gains in Ontario "but didn't do as well as we had to ."

•Points Finger at Klein
He blamed Alberta Premier Ralph Klein for "unfortunate comments that hurt us immensely. That was the difference." Those comments about health care, said Benoit left people with enough doubt in their minds to not vote heavy enough for the Conservative Party.