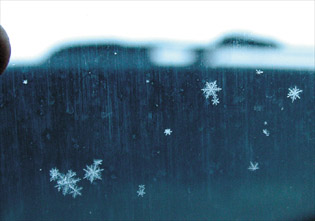 Snowcrystals still make their way to earth despite spring being only 10 days away. These specimens were landing on the side of the photographer's vehicle in downtown Provost. Although some believe that snowflakes are made from frozen raindrops, this is not true. Raindrops sometimes freeze in midair as they fall, but that precipitation is called sleet (little drops of frozen water without any of the ornate patterning or symmetry seen in snowflakes). According to a book called The Snowflake "A snowflake forms when water vapor condenses into a nascent snow crystal, the crystal grows and develops, and this is when its elaborate patterning emerges." Snowflakes are the product of a rich synthesis of physics, mathematics, and chemistry. ©Provost News Photo. Print edition in March 10 edition of The Provost News. Want to Subscribe to The Provost News? Click here.
---
Main Street May Get Summer Renovations
Plans are being considered that may see areas of Main Street including the distinctive arching lamp posts torn out and replaced with smaller units.

Town council is also looking at widening the middle cement divider which would mean less room for traffic down each side of the street.

Chief administrative officer of the Town of Provost, Terry Hurlbut said that the changes are being considered because of the extensive work needed if aging water and sewer lines are torn out and replaced.

"They are antiquated" and are leaking, Hurlbut said in an interview.

If the project goes ahead the lines to be replaced would begin north of the Provost Motor Inn on the east side of the street, and north of Common Wealth Credit Union on the west side. The project would continue up Main Street to about the United Church.

The water and sewer line project would be of a preventative nature to head off expected future leaks in the lines, and would save money in repairs, says Hurlbut.

This winter a line began leaking water underground in front of The News office so heavy equipment was brought in to dig up that piece of the line and replace it at a cost of $3,500. Pavement there still needs to be fixed.

The main sewer line is over 50 years old and is located directly underneath the centre meridian street lights that were installed about 30 years ago. "That's the big problem."

The intention, adds Hurlbut is to look at decorative lighting to create a different atmosphere. There are already a few smaller light standards (painted black) downtown similar to those being considered.