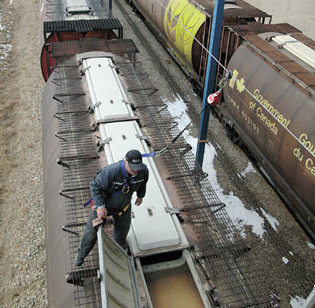 Jerry Buchart for Agricore United slams the lid shut on another grain car that fellow worker Cal Erickson (not shown in control room) had ordered filled via electrical-mechanical controls. Each of the 56 grain cars pulled into the terminal east of town and were filled in less than two minutes. A total of 185,000 bushels were filled into the railway cars within 10 working hours—including paperwork—and were sent on their way to Vancouver and from there to other world destinations. ©Provost News Photo. Want to Subscribe to The Provost News? Click here.
---
Facility Plugged With Grain
Farmers in the Provost area are looking for signs to bring more grain to the Agricore United high throughput grain facility for shipping to customers—but it's still brimming with last fall's crop.

Even though 50 grain cars were recently filled with wheat and another six with canola (see picture, left) by Agricore United staff, "We are plugged right now" general manager of operations, Dale Westvelt told The News in a recent interview.

That space created just east of Provost was used to bring in more farmers' rye and canola that will soon be shipped; there are contracts for 56 rye cars to ship the end of this month followed by 56 cars of canola a few weeks later.

Grain from the Provost area moves west to Vancouver but that port has not often been calling for high grades of wheat (high protein) and "That's all we have here."

There have only been a couple of orders for the high protein wheat recently so it's possible that in this area the crop year may be extended in order to ship all the current grains. That decision may partly hinge on demands from overseas customers.

It sounds like all the wheat will move (Westvelt has been told by wheat board representatives that they have sales on the books for all the grain contracted) but it will take shipping into June and July—and maybe even into August before it's all transported.

"This (situation) is not usual at all" points out Westvelt, however they have been re-routing durum wheat from the Provost high throughput grain facility to other Agricore United facilities via truck for shipment on CNR lines in southern Alberta and Saskatchewan.

He says a similar situation is taking place with feed barley and they are now "moving a heck of a lot of it" direct from local farms and trucking it right to end-users like feed lot operators, mainly in southern Alberta. "We have been doing a lot of that lately."