Ash Wednesday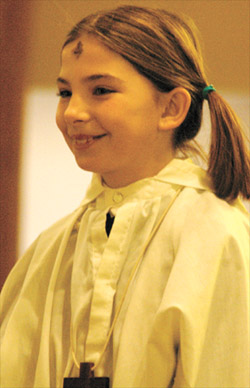 This girl was among tens of thousands from around the world who proclaimed their faith in the Christian church on Ash Wednesday. She is seen here in St. Mary's Roman Catholic Church, Provost after receiving the sign of the cross on her forehead. Rev. Jozef Wroblewski was assisted by helpers during the morning ceremony. The priest said that "Lent is a time to reflect on your relationship with God and others and how to improve upon them." ©Provost News Photo. More photos in March 3 edition of The Provost News. Want to Subscribe to The Provost News? Click here.
Summer Earliest for Cattle Border to Open
. . . But More Likely After U.S. Election Says Think Tank Speaker
The best case scenario for cattlemen hoping to see the American border open for live cattle shipments is summer—but will more likely be after the election in the United States in November, according to a senior market analyst speaking in Provost.

Kevin Grier of Guelph, Ontario who works for an independent agri-food "think tank" called the George Morris Centre, addressed farmers and ranchers taking in the Provost and District Agricultural Society's annual Farming for Profit seminars and trade show held on Wednesday, February 25.

People, Grier said had expected that the border would have been open by now but with an American case of bovine spongiform encephalopathy (BSE) and "because this is an election year in the United States" he predicts that cattlemen and others can expect to wait until "at least" after the November election.

The guest also said that "we are decimating an industry" over something that has almost zero danger to human health.

Now, because of the U.S. case of BSE he believes that the American administration will work harder to get rules changed that will favour cattle producers on both sides of the border.

The market analyst defended the cattle industry, saying that the industry "feeds the world because it can . . . it's good at it." If the industry did not export, then the industry would not exist. "Yes it's in trouble now, but that's the industry."

He also showed slides on a projector that illustrated the millions of head of cattle and the beef exports in question —and to the extent that Canada is an exporting nation.

Grier talked about the effects of BSE on both the Canadian and American producers and how other countries have reacted to the situation.

He also explained why cattle prices are so low yet beef prices are high. He said that the backlog of cattle means lower cattle prices.

Supply and demand determines the price level here in Provost he added, giving a brief history of markets. In the 1980s and 1990s prices were relatively low and people were eating less beef; in 1999 more beef was consumed "but at slightly higher prices" indicating that demand was up. In 2002 and 2001 "we ate less (beef) but at higher prices." In 2003, Grier said Canadians ate more—but it did not take a massive drop in prices to trigger that consumption.
High prices at the retail level means consumers are demanding the meat "So I always think higher beef prices, as long as it's moving, is a good thing." The analyst also noted that demand for chicken is finally starting to stagnate "a little bit".

Price at the retail level will also be driven by competition although some may put it on special to draw customers in to a store in a bid to sell other groceries. "That's part of merchandising."

Grier said that costs of course have a lot to do with the price of retail beef so the higher the costs, the higher the price. Merchants, he said don't want to react quickly to a drop in costs—for fear that they would be seen raising the price of meat again next weeks, if costs rise.

Founded in 1990, the George Morris Centre is a Canada-wide, not-for-profit organization and has its headquarters in Guelph, Ontario with an office in Calgary.

The centre provides industry decision makers with information and analysis on issues affecting the Canadian agri-food sector. The centre's products and services help public and private sector clients adjust to change—and those leading the change.

Rest of story and pictures in March 3 edition of The Provost News.
Want to Subscribe to The Provost News? Click here.