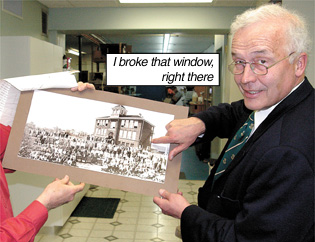 . . . but it was more than just a few years ago
University of Alberta president Dr. Rod Fraser stopped at The News office when he was in town last Tuesday and reminisced when he was attending the old brick Public School as a youngster. He's shown in this picture pointing out just where he threw a ball and exactly what window it smashed through so many years ago. Yes, he said he got in trouble with a teacher at school—but then he caught it again when he got home from his father Roy—who was also principal at the time. The visitor, who took Grades 1 to 4 here also found his dad's name in a Provost News book called Headlines and Halftones. He was in town trying to get information on how to make the university relevant and easier to access for students from the area. The president who is also a Professor of Economics toured the Provost Public School and St. Thomas Aquinas Schools as well. The Fraser family lived two doors north of The News office in a house that is now long-gone. ©Provost News Photo. Story and pictures in May 5 edition of The Provost News. Want to Subscribe to The Provost News? Click here.
---
Minister of Economic Dev't. and Tourism, MLAs to Visit Bodo Site
The Minister of Economic Development and Tourism for the province of Alberta, Mark Norris has confirmed that he will attend a tour of the Bodo archeological dig site next month.

MLA Doug Griffiths, who is arranging the tour said that he now plans to invite a dozen or so other MLAs, though he's not sure at this stage how many will be able to attend.

The tour is being organized for Wednesday June 2 and is expected to be led in Bodo by Dr. Terry Gibson.

Gibson discovered the vast site and has been teaching University of Alberta classes there the last few years.

President of the Bodo Archeological Society, Rich Holmes says that he is pleased that the Minister of Economic Development and Tourism will get out to see the site first hand. He added that University of Alberta president Dr. Rod Fraser, who was in Provost on Tuesday, April 27 expressed interest in the site where U of A students have been studying in the spring and summer.

Holmes informed the U of A president (and former Provost resident) that the U of A archeology program students are "under the direction of adjunct Dr. Terry Gibson who is an archeologist and anthropologist. Students will soon be returning for another year of study at the site which is very rare in North America for two main reasons: 1. studies of native life and artifacts cover an area involving square miles (Head Smashed In in southern Alberta is relatively small compared to this site); and 2; the soil has never been disturbed which is very unusual and has many archeologists in Alberta and beyond excited about it."

Gibson will be returning to the Bodo site to set up for the summer, arriving in about a week.

Classes for the students resume on May 25 and there will be 16 under graduate students here May 25 - June 2 and there will be four to five graduate students doing their own research program work on site July 12 to August 20. In addition Gibson will hold an advanced field school for six to seven students and he will also conduct two teaching programs near Bodo.

"This means that the Bodo archeological site will again be a busy place this summer and as a community we welcome that."
Holmes pointed out that the "U of A has been a key player in getting the school classes going but it should be noted that there is mostly community support through the M.D. of Provost ($60,000) and the Town of Provost ($60,000) through one time grants. This type of community support, I believe is highly unusual for this type of project and we have been told by local municipal governments that this is one time funding only. These funds may last a year or so. We are not certain where more funding may come from for cataloging and other archeological expenses that have to take place, according to the provincial government. Maybe the U of A has some extra dollars that could be channeled towards this worthy educational project. "

Fraser expressed interest in the project and said that he will contact Gibson for more details.

Since the announcement of MLAs travelling here, the U of A president will also be invited to the June 2 meeting and could travel from Edmonton with the politicians to tour the site. By June 2 a limited amount of dig sites will be open but by an open house planned for July 2 a larger number of sites will be open for excavation and study.

After the politicians tour the site that afternoon they will continue on to Wainwright where a national buffalo interpretive centre is being worked on by members of that community.

Rest of story and photo in May 5 edition of The Provost News.
Want to Subscribe to The Provost News? Click here.