Heavy Oil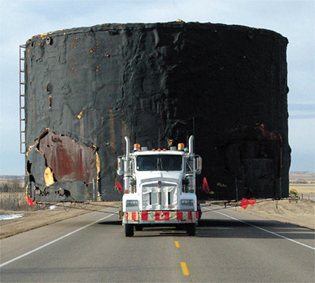 There was no room to squeeze by this empty 65,000 pound tank rolling down Highway 13 on Thursday morning as it covered both lanes and then some—at 40 feet in diameter and 27 feet tall. The unit was followed by three other similar trucks hauling tanks in a move from Husky Drake along Highway 17 (seven miles north of Macklin). The move from the former Murphy Eyehill oilfield battery jogged west into Alberta, through a field to avoid a main transmission line and then along this highway back into Saskatchewan winding up at Amberec Ltd. in Macklin. Project co-ordinator for this project, Fred Reinbold of Maverick Oilfield Services said that the 15 mile move took 20 to 25 men about five hours to complete. ©Provost News Photo. Print version in November 24 Edition of The Provost News. Want to Subscribe to The Provost News? Click here.
---
Griffiths Captures 65% of Vote
Premier Promises to 'Listen More Carefully to the Bosses'
Doug Griffiths was returned to serve as Member of the Legislative Assembly in Alberta's general election held on Monday, November 22.

Griffiths, who is a Progressive Conservative won the Battle River-Wainwright electoral division by beating out four other men running.

At midnight with all 68 polls reporting, voting results looked like this:
Doug Griffiths for the PCs: 6,409 votes for 65 percent (won all 68 polls).
Orest Werezak for Alberta Alliance, 1,440 votes which was 15 percent of the vote.
Gordon Rogers for the Alberta Liberal Party, 1,069 votes taking 11 percent of the vote.
Len Legault for the Alberta NDP, 616 votes or six percent.
Robin Skitteral for the Social Credit, 319 votes for three percent.

Province-wide the PCs, although losing seats maintained their hold on power coming up with another majority government.

Because of press deadlines, numbers of votes listed here were not final early Tuesday morning, but it appears that the PCs had (or were leading with) 60 seats, the Alberta Liberal Party 18, and the Alberta NDP four.

Provincially the PCs vote share was about 47 percent, the Liberals 29 percent, the NDP about nine percent and the Alberta Alliance Party nine percent.

This is the tenth straight win for the Tories and the fourth under Premier Ralph Klein who said election night that Albertans have told him to "listen carefully". He promised that "we will have to listen more carefully and deliver what the bosses (taxpayers) want." He added that "Our government will work as hard as we can to live up to your expectations."

Klein also called the fourth consecutive win for the PCs a "strong mandate."

Economic Development Minister Mark Norris went down to defeat, losing to Liberal Mo Elsalhy in Edmonton-McClung.
Liberal leader Kevin Taft said that it was clear that their voice is "being heard" and predicted future gains in the next election including forming the government in Alberta.

Alliance leader Randy Thorsteinson who did not win his seat said his party had made "tremendous strides" by showing 10,000 votes for them. Meanwhile NDP leader Brian Mason said that with an increase in MLAs, they "will need a bigger phone booth."

There were 450 candidates nominated for the 83 provincial seats available: Alberta Alliance (number of candidates running) 83; Alberta Liberal Party 82; Alberta NDP 83; Alberta Party four; Communist Party - Alberta two; Green Party of Alberta 49; Independent 10; Progressive Conservative Party 83; Separation Party of Alberta 12; and Social Credit 42 candidates.

Meanwhile Alberta voters also cast votes to nominate persons to serve in the Senate, which would take the approval of the Prime Minister's office. But Elections Alberta announced late election night that the 10 Alberta senate candidates would have to wait until the next day to find out whether they've won or lost.

Those in the senate race were: Cliff Breitkreuz (Progressive Conservative Party), Bert Brown (Progressive Conservative Party), Link Byfield (Independent), Vance Gough (Alberta Alliance), Gary Horan (Alberta Alliance). Michael Roth (Alberta Alliance), Jim Silye (Progressive Conservative Party), Tom Sindlinger (Independent), Betty Unger (Progressive Conservative Party) and David Usherwood (Progressive Conservative Party).

Rest of story in November 24 edition of The Provost News.
Want to Subscribe to The Provost News? Click here.