Oil It Ever Wanted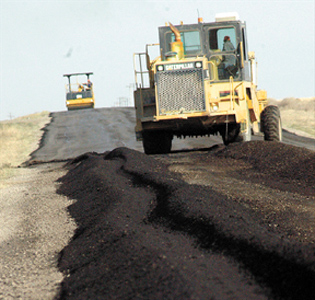 Packers and earth moving equipment have been kept busy south of Hayter as a road gets fresh oiled gravel put in place. The project, paid for by the M.D. 52 includes about six miles of work with the result being a connection to other oil at the south end (a few miles north of Bodo) and a connection to Highway 899 nearby. ©Provost News Photo. More in October 13 edition of The Provost News.Want to Subscribe to The Provost News? Click here.
---
Provost Facing10 Other Senior Hockey
Teams in Oldest League
Provost faces off with 10 other hockey teams this season in the Battle River Hockey League, apparently the oldest men's hockey league in Alberta.

The BRHL marks its 50th anniversary this season.
Marty Lawes for the local Greenhead Blades hockey club says that a league meeting was held in Amisk on September 26 with all 11 teams represented.

On the ice this year will be teams representing the east division from Provost, Consort, Hughenden, Wainwright, Irma and Sedgewick while in the west division will be Castor, Big Valley, Viking, Tofield and Daysland.

The league "looks promising this year" says Lawes who is manager of the Blades.

Although the east and west play in separate divisions it will be the top eight teams overall who will compete in playoff action.

It is uncertain when the league begins its first game but Bonnyville is schedule to be in Provost on Friday night, October 15 for an exhibition game. Other exhibition games are also being planned by Provost in the meantime.

Last year going into playoffs there were only two or three points separating the top teams—from the fourth to the ninth place. "That shows you how throughout the year the teams are . . . very competitive. You can win on any night" says Lawes.

Last year Daysland beat Consort in the finals.

Daysland has won about seven out of the last eight years or so.
Hughenden volunteers will remain as executive for the BRHL again this year with president Glenn Martin also of Hughenden.

Provost, says Lawes is pleased to be so close to so many teams in the league, noting that Hughenden and Consort are so close and "it's pretty good hockey." The farthest trips for the Blades will be Big Valley and Tofield which are about a two and one half hour trip.

Goalie for Provost will again be Oscar Buck, back for his fourth year but the team is also looking for a backup to help out. There are several new players on the Blades team this year with very few being lost from last season.

The Blades manager praised team sponsor, Pak Wong of the Greenhead Motel and Restaurant who is "a phenomenal sponsor. He looks after us great." And adds Lawes, no other teams get what the Blades do from their local sponsor. "Most don't have a major sponsor." Wong has backed the team for the last dozen years.

League games may begin in late October or early November.

Full story in October 13 edition of The Provost News.
Want to Subscribe to The Provost News? Click here.