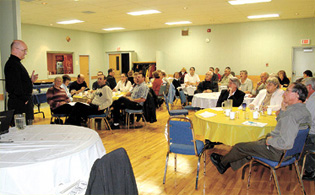 International speaker and futurist Roy Prevost, addressing business operators in Provost: tell people you're the best. ©Provost News Photo. More in October 27 edition of The Provost News.Want to Subscribe to The Provost News? Click here.
---
'Crazy' for Small Businesses to Discount Prices
. . . But Key is Service to Combat Big Box Stores —Speaker
Big box stores that compete for consumers' dollars have the best prices only on certain items designed to draw people in, but they're not good on service, says marketing expert and motivational speaker Roy Prevost who was in Provost on Friday night.

Prevost spoke to 36 people in the Recreation and Culture Centre, and was brought in by the Provost and District Chamber of Commerce and the Provost Economic Development Committee (EDC) as a feature of Small Business Week that was being celebrated in Alberta.

Kim Larson, chairman of the EDC noted the importance of small businesses in Provost and the large numbers of people they employ here. He counted 1,184 people listed in last week's Provost News who are employed full and part time in the area (but that number includes only those who participated in a "Small is Big" message). Larson said that "As small business owners, we have a lot to be proud of in today's economy." He then introduced the B.C. man who helps small business increase confidence, improve profitability, build customer loyalty, and triumph over competition.

Prevost, who is an entrepreneur and futurist forecasts trends on the "Future Consumer" and talked about prospering in the big box retail world.
That evening after supper 36 people heard the visitor talk about customer loyalty and service.

Prevost, who has 25 years of experience in marketing, wholesale, retail and manufacturing in the giftware industry, says that what's important is "how do I keep my customers at home?" The big box stores like Costco and Walmart, he points out are going to be around for a long time. He says that 80 percent of consumers shop big box stores yet credits Walmart alone for keeping prices and inflation down in North America because of its pricing strategy.

He suggested that people should talk to local store operators and "have the courtesy" of telling them about service. "I want the service that goes with my money" Prevost says, adding that in North America some places "treat you like mud."

Small business operators must connect with their customers and "give service." A long term relationship is important. Small business operators should tell their customers that their business is appreciated, he advised.

"You don't have to discount prices. It's crazy and you won't make a dime." Your sales may go up, but that won't let you compete with Walmart. Service will though, he states.

Prevost says that people in Provost are in a good situation "Alberta is it . . . beef will rebound" and with an active oilpatch here "things are going to boom."

The futurist told the business operators that they should be able to say clearly who they are and what they do best. Say to yourself "Yes, I'm the very best."

The big stores' weakness is providing good service, he stressed during his talk.

"Tell people (potential customers) you're the best. We're experts" when confronted by the large big box store prices.

He also advised businessmen to have a presence on the Internet through a web page.

Full story in October 27 edition of The Provost News.
Want to Subscribe to The Provost News? Click here.