Police Helicopter, Dogs Search for Missing Man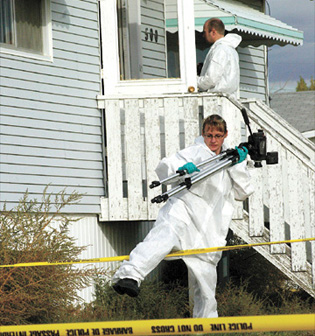 Police investigators in special clothing and equipped with a video camera and other equipment spent hours examining the contents of this house in Hayter on Thursday afternoon, September 23. Afterwards RCMP officers from across the province guarded the residence on the south west edge of the hamlet during the days and nights as an investigation continued. ©Provost News Photo. Story and more pictures in September 29 edition of The Provost News.Want to Subscribe to The Provost News? Click here.
---
71% of Drivers Disobey Stop Signs—3 Day Survey
Mayor Suggests Clampdown
• Over 4,000 Vehicles Observed
A three day traffic survey at three intersections in Provost shows that less than three out of every 10 (29 percent) drivers obeyed the law and stopped for the posted traffic control red stop signs.

Many motorists treated the stop signs as yield signs while others ignored the stop signs entirely and sometimes even sped up as they approached the octagonal red signs.

The Provost News staff survey was conducted at three different areas in town.

One intersection observed was at the north west edge of Provost where Highway 899 and Highway 13 intersect. It was surveyed for 12 hours, 8 a.m to 8 p.m. on Monday, August 9.

Another survey was taken the day after at the north east corner of town where Highway 899 and Highway 13 intersect and it was also observed for 12 hours, 8 a.m to 8 p.m.

The third survey was done on Wednesday, August 11 at an intersection in downtown Provost where Main Street (50 St.) intersects 51 Ave.—the intersection with Triangle Trophy, Larson's Hardware, Provost Insurance and CIBC at the corners. The intersection was surveyed for eight hours, 10 a.m. to 6 p.m.

Each vehicle was put under one of three categories: cars, trucks (including large trucks such as semi-trailers), and other (including sport utility vehicles, vans, mini-vans, motorcycles and farm equipment).
Altogether, among the three intersections and 32 hours that was spent observing, 4,015 vehicles were involved in the study.

Here are the results:
• Of the 4,015 vehicles, 2,850 —or 71% of drivers did not stop; 1,165 (29%) stopped before entering the intersection.

• Of the 2,170 trucks counted, 1,590 (73.3%) did not stop, while 580 (26.7%) did stop.

• Of the 1,034 cars counted, 663 (64.1%) broke the law, while 371 (35.9%) did stop.

Rest of the story, more statistics and photos in September 1 edition of The Provost News.
Want to Subscribe to The Provost News? Click here.