One Hot Bike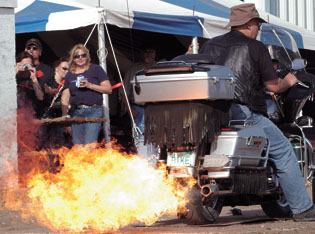 Russell Moncrieff of Lloydminster revs his Harley-Davidson Anniversary Road Glide motorcycle at a fifth annual poker run, rodeo and pig roast celebration held Saturday afternoon, August 20, five kms. south of Provost. Dozens of motorcycle enthusiasts met, demonstrated skills and held a dance that night. Net proceeds will be turned over to STARS (Shock Trauma Air Rescue Society). Moncrieff said that he built and attached the flame-thrower to his bike and also invented a special smoke screen to use if others tailgate him while moving down the highway. More photos inside. ©Provost News Photo. Print version in August 24 edition of The Provost News. Want to Subscribe to The Provost News? Click here.
---
Earns Silver at West. Canadian Baseball Championships
The Provost Midget Shooters baseball club wound up in second place taking home silver medals at the Western Canadian Championships in Yorkton, Sask. over the weekend.

Ted McInnis followed the action for The News:
On Friday, August 19 Game one saw Provost against a very strong B.C. team. Jarvis Smigelski started the game and pitched eight very strong innings. Games are supposed to be seven innings but after seven innings, the score was tied at two. B.C. jumped out to a 1-0 lead in the 3rd inning with Provost tying it up in their bat in the 4th. When B.C. batted in their half of the 4th they pulled ahead once again leading 2 – 1. Brett McInnis started the 7th by hitting a triple followed by Smigelski who drove him in with the tying run. McInnis started the 9th inning with a single and scored the winning run as he was once again driven home by a double of Smigelski. Smigelski scored on a single by Shawn Pilgaard. Going into the bottom of the 9th Smigelski was still pitching. The pitch count was getting high but he started and gave up a couple of hits so with runners on 2nd and 3rd he gave way to McInnis who came on to get a fly ball on the infield and struck out the next batter. The next batter was struck out but the umpire called it a ball and he walked to load the bases. McInnis left the next batter at the plate as he watched strike three go by him. B.C.'s big downfall was they stranded 14 runners on base over the nine innings. Provost was lead offensively and defensively by Smigelski. As mentioned, he pitched eight terrific innings giving up only eight hits and striking out 10 B.C. batters. Smigelski also had two singles and a double driving in the 1st three runs (including the game winner). McInnis had a triple and a single, Brad Paice had two singles, Chad Deunk (a pick-up from Brooks) had a single, as did Pilgaard and Cole Angeltvedt.
Game two saw Provost play the Manitoba champions from Brandon. Chris Shaw pitched for the Shooters going all seven innings as he allowed only two hits while striking out 10. The 1st two innings were pretty uneventful but in the 3rd Shaw got things started with a double and scored when Angeltvedt hit him in with a single and also scored to make it 2 – 0 after three innings. Provost scored another in the 4th, three in the 5th and two in the 6th to come away with an 8 – 0 victory. Offensively for Provost Garrett Southoff had two singles and scored two runs, Chad Deunk had two singles and scored a run, McInnis had a single and drove in three runs, Smigelski had a single and drove in a run and Joel Budd had a single and a double scoring twice and driving in another run.

Southoff made a defensive gem in this game ranging far to his left at 2nd, diving and then throwing the runner out at 1st. What made the play even more spectacular was that Southoff made the throw from the sitting position as he did not have enough time to get up and throw the runner out. These types of plays you usually only see in the major leagues.

Provost ended day one with a perfect 2 – 0 record. They had another game Saturday against the host Yorkton team before playing the Saskatchewan team from North Battleford on Sunday to end round robin play.

Game three—Are we playing today? The game started out very slow as Yorkton lead 2 – 0 after the 1st inning, 4 – 0 after the 3rd inning. In the 1st inning Chad Deunk had a single while Brad Paice drilled a double to the wall in left field in the 2nd and Garrett Southoff hit a single in the 3rd. All three runners were stranded on base. In the 4th inning we seemed to decide that we were in a baseball game. Chris Shaw hit a single and moved to 2nd when Brett McInnis was hit by a pitch. Both runners advanced when Brent Deunk was also walked. With the bases loaded Benton Gieni drove in a run with a single, followed by Southoff who was also hit by a pitch and drove in run number two. Chad Deunk followed with a sacrifice fly and a RBI. Shawn Pilgaard came up and hit a hard single that drove in two more runs including the eventual game winner. Jarvis Smigelski doubled to drive in the 6th run of the inning and was stranded on 2nd base. Once the smoke cleared the Shooters were ahead 6 – 4 which is how the game ended. Pilgaard also had quite a few defensive plays in the field as he made some nice picks and throws to 1st and 2nd to help us out as well.

Full story in August 24 edition of The Provost News.
Want to Subscribe to The Provost News? Click here.