Snow and Behold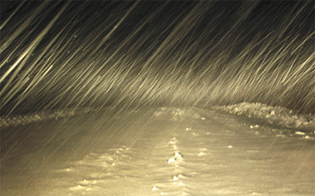 Snow streaks to the ground forced by a strong wind during the night when this picture was taken along a country road. Cold temperatures coupled with freezing rain have kept many of the highways and other roads tricky for travel despite some sanding and scraping. Warmer weather however on Sunday provided some relief. © The Provost News. Print version in January 26 Edition of The Provost News. Want to Subscribe to The Provost News? Click here.
---
Bodo Archaeological Society to Unveil Video
CD With Other Group Says New President
Plans are continuing to develop the Bodo archeological dig with a marketing tool that will soon be unveiled says the new president of the Bodo Archaeological Society.

Kim Larson was elected president of the archaeological society at its annual meeting in Bodo on Thursday night.

Past president Rich Holmes who stays on as a director was named president in October 2003.

Larson said in an interview that the group has a special gala event that it is co-hosting with a similar group in Wainwright.

The Bodo group and the newly-formed Wainwright Buffalo National Park Interpretive Centre (WBNPIC) are hosting the supper and special 12 minute custom-made video presentation February 12 in Wainwright. Some local councillors are also expected to see the video unveiled and it will be used for marketing and tourism in the area.

That night a feasibility study will also be presented by a firm hired called Exceleration Corp. of Calgary.

The study of both the Bodo and Wainwright areas had been underway since several MLAs visited the Bodo site in June. Copies of the video will be pressed into CDs and sent to tourist agencies, government officials and the University of Alberta (to aid in funding requests) and even overseas. Working on funding with the U of A is Dr. Terry Gibson (who discovered the Bodo site) and archeologist Beth May.