New Year's Day 2005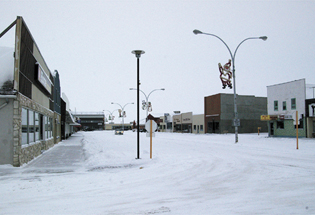 Empty streets and a single car going down Main Street shows the contrast in use—as slightly over a week before the streets were crowded with shoppers. ©Provost News Photo. Print version in January 5 Edition of The Provost News. Want to Subscribe to The Provost News? Click here.
---
Canadian Cattle To Begin Moving to U.S. March 7
Live cattle under 30 months for feeding and for immediate slaughter and all beef products will be eligible for export into the United States beginning March 7.

The rule to once again allow imports of live Canadian cattle and all beef products into the U.S. from Canada and other regions at minimal risk for BSE took a major step forward with the announcement by the United States Department of Agriculture that the rule will be published in the U.S. Federal Register on January 4, to become effective on March 7.

"Today's announcement (Dec. 29) by the United States Department of Agriculture has been a long time coming and is the result of a tremendous amount of work that has taken place on both sides of the border," says Stan Eby, president of the Canadian Cattlemen's Association (CCA). "

"Canada's cattle producers are delighted. This announcement will put confidence into the live cattle market in Canada. Getting slaughter cattle back moving to the U.S. will help relieve the bottleneck at the packing plants that has been the main reason for depressed cattle prices in Canada. "

"The cattle industry continues to recognize the need to expand slaughter capacity in Canada and CCA remains committed to finding solutions to this issue. We will also continue to work on regaining access for all categories of live cattle, including breeding cattle, so we may have totally unrestricted trade within North America. We're also committed to regaining and expanding markets for Canadian beef around the world. We expect that many other markets will follow the lead of the United States and adopt similar science-based measures."