Coming Up for Air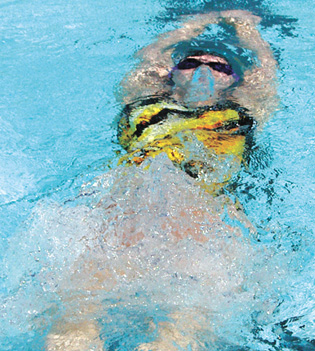 Rebecca Allen churns up the water just before she breaks the surface during a backstroke race. The action was held at the annual Provost Piranhas swim meet at the local pool on Sunday, July 10. Results in this paper. ©Provost News Photo Print version in July 13 edition of The Provost News. Want to Subscribe to The Provost News? Click here.
---
Huge Crop—But Low Prices Expected
Crops throughout the M.D. and also north and south of Provost and into Saskatchewan are growing into what may become a bumper harvest later this summer.

But the large crop is being tempered with complaints from farmers that prices for their produce are currently low.

Farmer Rick Strankman of Altario says that he is optimistic about this year's crop and "with our good rainfall and good temperatures, everything seems to be growing rapidly." He is still sceptical about his crop though until it is harvested, suggesting that with all the moisture there may be hail or some form of extreme weather. Although Strankman is not happy with prices being offered he says there will be plenty of feed for livestock.

Many factors are causing the drop in prices for farmers' crops, points out general manager of Agricore United at Provost, Darrell Huber. A main factor is the Canadian dollar that was not too long ago at 65 cents compared to the U.S. dollar, but was on July 8, pegged at 76 cents. "That's a major impact" and says Huber supply and demand plays large in the markets. The supply (of crop) potential is huge, driving down the price.

Prices now being projected for crops to be harvested here this year look like this:

No. 1 Canadian Western Red Spring wheat (CWRS): $4 per bushel, after deductions (or what the farmer would take home). Last year it was $4.20 per bushel.

Malting barley: $2.48 per bushel. Last year's crop malt barley yielded $2.60.

Canola: $6 per bushel net. Last year the price offered was between $6 and $7 with the bulk around $6.50 per bushel.