Big Shag Heading for Big City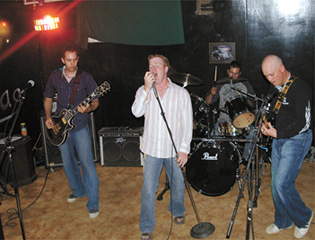 Local band Big Shag is shown during a practice on Friday night in town. From left: David Small, Trevor Schneider, Brian Kohlman (on drums) and Tyson Swancoat. Schneider says they are practicing extra hard now because they have been asked to play in Edmonton's Urban Lounge on Whyte Avenue this Thursday night and he hopes people from this area will come to support them. He says this may be the big break they are looking for. "It's a really big thing" being able to play in a major centre. The band has been playing for five years. ©Provost News Photo Print version in July 20 edition of The Provost News. Want to Subscribe to The Provost News? Click here.
---
Open Cattle Border a 'Mixed Blessing'—Rancher
A Czar rancher says that a recent U.S. court ruling that the border be open again to live cattle shipments is a relief and also a mixed blessing.

Will Porter of Poplar Lodge Ranch, south of Czar says that he has no immediate changes to his operation, because he operates a custom cattle operation and doesn't own any inventory at this time.

"Long term, I definitely think it's a return to some semblance of pre-BSE (bovine spongiform encephalopathy) but where markets shake out is dependent on the complexity of the rule regarding the exportation of the cattle to the U.S.—and also it depends on what sort of speculation is involved in the market."

The rancher said that the Canadian dollar is also important in this issue: "We all have to remember that prior to BSE our dollar was high 60, low 70s now we're at an 80 + dollar. That's had as much impact on our prices as our border probably has. I think it's a mixed blessing for the industry. Long term our industry would be better off if our border remained closed and we shipped everything to the border in a box."

Provost News: How do you expect this ruling will affect your operation?

Will Porter: I hope everyone learned a lesson in how vulnerable we are to the border being opened or closed. I mean, things certainly are a lot more promising, given that the U.S. has a home-grown case of BSE, that certainly takes a lot of arguments away from the R-CALF. We've got 12 million head and they've got 49 million head. They've always had BSE . . . they've just finally admitted it. The real impact we're going to see this fall is in the feeder cattle market. I think there'll be a lot more people with a lot more optimism about things and that the feeder cattle market should be stronger this fall. I think people will step out to own more cattle in terms of feedlot operators.