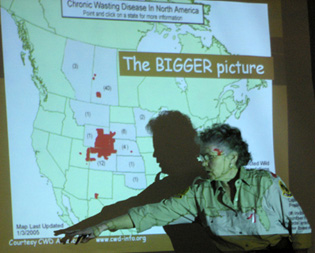 Biologist Dr. Margo Pybus of the Fish and Wildlife branch of the Alberta government presented slides at a public meeting in Provost that showed the effects of chronic wasting disease in deer. The map above shows places in United States and Saskatchewan where it has been discovered. Story in this paper. ©Provost News Photo. Print version in March 16 edition of The Provost News. Want to Subscribe to The Provost News? Click here.
---
Shooting of Deer Begins to Keep Chronic Wasting Disease Away
Alberta Fish and Wildlife officers began shooting deer east of Chauvin on Friday, March 11 as part of a plan to keep infected animals from coming across the border from Saskatchewan.

By Monday, March 14 at 10:15 a.m. when one of the Fish and Wildlife officers was contacted by phone at Dilberry Lake Provincial Park, 174 deer had been shot.

Communications officer Lyle Fullerton, who is doubling as a processor in the park told The News that "things went extremely well" over the weekend.

Monday morning there was a heavy snowfall in the park that is now out of bounds to the general public for safety reasons. The cold weather is holding for the hunters which includes 10 two man teams plus a half dozen others who are processing the deer in a park building. Fullerton says they hope to continue with the shoot until April, depending on weather and numbers of sample taken by then.
The daytime hunting began the day after a series of public meetings concluded in the area about the deadly disease in deer and elk.

Meetings were held in Chauvin, Provost, Wainwright and Lloydminster to both inform the public and to look for suggestions about how to manage the potential outbreak of CWD.

The Provost meeting was held Thursday night in the Recreation and Culture Centre with approximately 28 people attending—including fish and wildlife officers and staff.

Wildlife disease specialist for Alberta Fish and Wildlife Division, Margo Pybus gave an overview of the disease and other places in North America, including United States where it has shown up in the animals.
Chronic wasting disease is a fatal infection that affects the brain tissue of mule deer, white-tailed deer and elk.

No cases of CWD in the wild have been recorded in Alberta even though over 5,400 wild deer and elk have been tested since 1996. Pybus says that the only known cases of CWD in the Canadian wild are at Swift Current, north of Lloydminster, and the current group of interest near the Manitou sand hills in Saskatchewan—east of Chauvin.

"We want to keep it (CWD) out, or if it gets here, we want to eradicate" the disease in Alberta, Pybus said. She also told the crowd that there is a lot that is unknown about the disease but they have also learned a lot about it.

Rest of story in March 16 edition of The Provost News.
Want to Subscribe to The Provost News? Click here.