Performing—Twelve Rows Back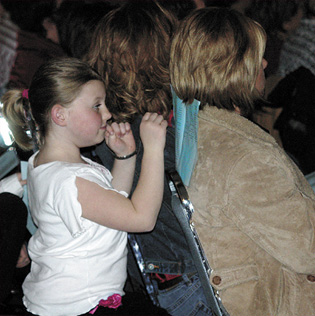 Eight year old music fan Kassidy Watchel put creative thought to work and wedged her music festival program on the back of her mom Kari's chair—then imitated playing an instrument that was being heard on stage during Color Night. Saturday's performance was the thirty-third assembly of talent following a week-long grading of students. ©Provost News Photo. Print version in March 23 edition of The Provost News. Want to Subscribe to The Provost News? Click here.
---
Hunt Winds Down as Over 475 Deer Shot
• Heads Being Checked for Chronic Wasting Disease
An Alberta Government ordered hunt of white tail and mule deer is winding down.

By the end of Sunday, March 20 approximately 475 deer had been shot by Alberta Fish and Wildlife officers because of a fear of chronic wasting disease (CWD) spreading from infected deer in Saskatchewan to Alberta.

Wildlife disease specialist for Alberta Fish and Wildlife Division, Margo Pybus told The News on Monday morning, March 21 that they would "collect" deer that day and Tuesday and then assess the program. She hinted that Tuesday could be the last day of the campaign. They have "pretty much achieved the goal" and the hunt will now be analyzed to see if more hunting will be done.

As of Monday, over 300 heads had been sent to a laboratory to check for disease. If a case of CWD is found the public will be notified immediately, says Pybus. It's expected most of the heads will be processed within a few weeks with final results released the end of April.

With the exception of Sunday hunting, rules that regular hunters would use apply, says Pybus. No night hunting is being done.

She refers to the non-recreation hunt as a "scientific collection" by government staff used for a disease response program.

While parts of Dilberry Lake Provincial Park were off limits to the public the hunt has since moved beyond the park into private land in Range 1 and Townships 41 to 43.

Communications officer Lyle Fullerton, told The News that in the park some hay was used as bait for the high concentrations of deer but outside that area bait was not used.

Chronic wasting disease is a fatal infection that affects the brain tissue of mule deer, white-tailed deer and elk.
No cases of CWD in the wild have been recorded in Alberta even though before this current campaign over 5,400 wild deer and elk had been tested since 1996.

The only known cases of CWD in the Canadian wild are at Swift Current, north of Lloydminster, and the current group of interest near the Manitou sand hills in Saskatchewan—east of Chauvin.

Fish and Wildlife officers worked with 10 teams of two shooters, working in the high risk region, comprising Townships 41, 42 and 43 in Range 1, W4. The area is about 29 km long (18 miles) by 10 km wide (6 miles).

Rest of story in March 23 edition of The Provost News.
Want to Subscribe to The Provost News? Click here.