Ready to Seed in Downtown Provost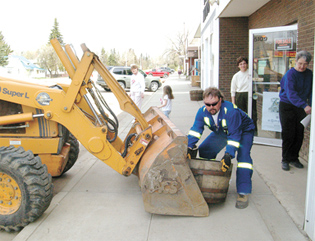 Betty Varty (left at back and Kaye Nish, right) for Communities in Bloom supervise the action in front of Julares Gifts and Jewellery (Rae Komaransky is holding the door) on Monday morning, May 9. Keith Heintz, meanwhile manhandles one of several flower pots that will be blooming with colour this summer. Planting of the flowers this spring will take place on May 26. ©Provost News Photo. Print version in May 12 edition of The Provost News. Want to Subscribe to The Provost News? Click here.
High Speed Rural Internet Going Ahead
. . . Enough Sign Up for Project
There are 26 people surrounding Provost who have signed contracts —enough to make a rural Internet project go ahead, say organizers.

Plans are being made to use the Provost Municipal Library's tower and possibly its high bandwidth SuperNet connection if it is soon hooked up.

Members of Provost town council met with a firm from Marwayne, Alberta called HMS I-Net on Wednesday, May 5 at noon and agreed in principle for a plan to use the library radio tower that will then beam a signal to Wilmar Implement Co. Ltd.'s tower a few miles north east of town on top of Holmes' hill for redistribution to internet users.

Keith McElhinney, who has been helping with the organization of the project says that he has names of quite a few others who are interested in the service but are out of range.

He added that there are some oilfield users who are interested in joining the system and will send data right from their oil or gas installations.

If the province-wide SuperNet is not soon hooked up to the library, Dave Hendricks for HMS I-Net told The News in an interview that they would "bite the bullet" and sign a deal with Telus to move the project forward. He did not know when the service would be available other than saying it would be several weeks, depending on Telus and SuperNet.

But "We are coming here" he said and added that he was pleased with the response (after the possibility of the service was published; see PN April 20).
"We find that after it is running for a few weeks, others come on strong (to sign up) because it is something that works, it's real."

Hendricks was working on a written agreement for the town on May 6.

Although they do not guarantee it, the range might extend to 20 kms on a line of site basis, so some people living near Macklin could buy the service.

The company has had a wireless Internet system operating for six months at Marwayne. Hendricks has two partners, Todd Hames and Kevin Toews who has operated a computer and network business for 16 years.

McElhinney says that six radios atop the tower would cover a 360 degree circumference and added that the system being offered could also allow service to multi-family dwelling units like apartment buildings or hotels and motels through the phone lines.

When the Internet is being accessed by one person, the phone line would still be available for others in the household, adds Hendricks.

Rest of story in May 12 edition of The Provost News.
Want to Subscribe to The Provost News? Click here.