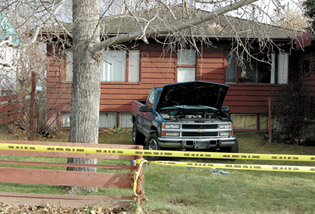 Yellow tape surrounds a house on Main Street that shows the back yard where a man was confronted by three others. ©Provost News Photo.
Story in November 9 edition of The Provost News.
Want to Subscribe to The Provost News? Click here.
---
RCMP Set Up Roadblocks After Man Shot
A Provost resident has been shot during a robbery attempt on Saturday morning at his Main Street residence.

Provost RCMP are investigating the 10:45 a.m. incident two doors north of the United Church at 5220 50 Street.

Cpl. Terry Wickett said on Monday, November 7 that a man is still in an Edmonton hospital with an injury to his ankle.

Police say that three unidentified males went to a residence in Provost and approached a 27 year old man in his backyard, demanding money and forced him to the front yard. During the robbery the victim was shot in the foot area, suffering a serious injury.

After the single shot was fired from a shotgun the assailants fled the scene in a grey car.

The victim was taken to the Provost hospital and later transferred to Edmonton for more medical attention.