Centennial Celebration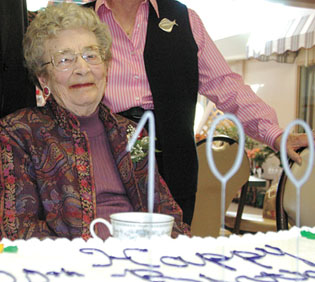 Gretchen Wright during her 100th birthday party celebration on October 8 in Provost. Her actual birthday anniversary was on Thanksgiving, October 10—and she spent part of that day on the family farm watching harvest operations. ©Provost News Photo.
Story in October 12 edition of The Provost News.
Want to Subscribe to The Provost News? Click here.
---
Students Dig Time Off From School to Plant 20 Trees
Grade 4 students joined in a tree planting project and learned the importance of stewardship and responsible development at the new soccer field in Provost on Wednesday afternoon, October 5.

Employees from five local oil and gas companies that co-operated attended as 20 trees were planted at the beautification project on the south east edge of town, near Highway 899.

"By getting involved in these types of activities, these students are helping our community to grow stronger" says Dan Stuckky, leisure services officer for the Town of Provost.

In conjunction with Tree Canada's program, volunteers from Apache Canada Ltd., EnCana Corporation Ltd., Husky Oil & Gas Ltd., Newalta Corporation and Real Resources Inc., combined efforts with Provost and community participants in the second year of the program's soccer field beautification project. The tree-planting students were from Provost Public School and St. Thomas Aquinas School.

Two kinds of trees were planted: towering poplars and shurbert.

In addition plans are being made by CAPP to later re-surface team soccer benches.

Energy in Action (in partnership with Inside Education and Tree Canada Foundation) activities like this one, took place in 13 communities across Canada September 26 to October 6.