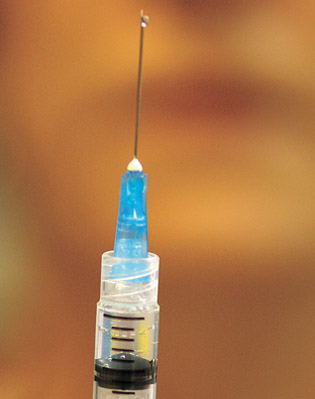 Picture of health: Public health nurse Shirlianne Neufeld holds up exactly 0.5 ml. of vaccine for adults who want to avoid influenza this fall and winter. For children six to 35 months old, 0.25 ml. was injected at a Provost clinic in the Provincial Building. Other clinics were also scheduled for residents at Amisk, Cadogan, Czar and Hughenden. The top three 'flu strains expected to appear this season are: A/New Caledonia, A/New York and B/Jiangsu. ©Provost News Photo.
Photos in October 26 edition of The Provost News.
Want to Subscribe to The Provost News? Click here.
---
200 Provost Businesses, 125 in M.D. Strive to Serve Top Markets of Agriculture, Oil and Gas
• 96 Percent Employment Rate Here
An estimated 325 business operations in this area employ well over 1,500 people in full and part time positions, contributing to a 96 percent employment rate here.

In the Town of Provost there are 200 business establishments operating while across the M.D. Provost No. 52 including the villages of Czar, Hughenden and Amisk—there are another estimated 125 business operations—big and small employing people.

According to information made public by AdWest*, in The Provost News circulation footprint area there are several categories to examine:

• Top Five Industries
The top five industries here are agriculture (including hunting and fishing) at 30 percent; oil and gas extraction 20 percent; health care and social assistance, seven percent, retail trade six percent; and wholesale trade six percent. (Numbers represent percentage of population that work in the newspaper area's labour force):

• Population
Total population: 6,057, total number of households 2,224; average household income: $57,387.

• Population by Age:
0 - 14 years, 1,219; 15 - 24 years, 600; 25 - 34 years, 635; 35 - 44 years, 878; 45 - 64 years, 855; and 65 years and over, 590.

• Consumer Spending in 2003 (latest figures available):
• Food: $13,095,000; shelter: $22,271,000; household operations: $5,344,000; household furnishings: $3,014,000; equipment (no data available); clothing: $4,751,000; transportation: $16,857,000; health care: $2,675,000; personal care: $1,382,000; recreation: $6,268,000; reading materials and other: $321,000; education: $1,596,000; tobacco products and alcoholic beverages: $2,150,000.

• People (marital status)
Single: 1,247; married: 2,828; separated: 36; widowed: 285; divorced: 157.