Locally Produced CD is
Music to Their Ears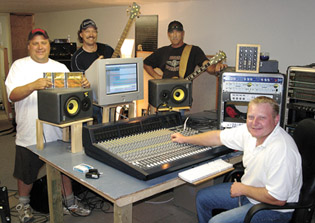 A band called Chester Kreetch with members from Provost and Macklin have produced their first CD, "The Banks of Overall". The music CD was created at the group's own recording studio in Provost with some work also done at Audio Art in Saskatoon—and is now for sale featuring five musical selections.
More in September 14 edition of The Provost News.
Want to Subscribe to The Provost News? Click here.
---
$4 Million for Hillcrest Project, Board States
• 80 Rooms Instead of Current 56 • "It's time We Made a Move" • Tender in Dec. or Jan. • Condo Nearby Also Proposed by Developer

The Provost Senior Citizens Home Foundation is making plans for a $4 million expansion and renovation of Hillcrest Lodge.

There are 57 people living in the lodge at Provost yet 31 of them have no bath tub or shower in their own room.

There are another 31 people on a waiting list as of September 12 who want in the lodge.

But chief administrative officer at the facility, Bonnie Aker told The News that some people are becoming reluctant to move in because they would have to use a central bath in the building.

Ken Knox, who serves on the foundation board and who is also mayor said he made the motion to proceed with the addition with the $4 million ceiling cap, but says that figure may have to be revisited.

This expansion was talked about two years ago and was also an election issue a year ago, Knox points out. "We have been sitting on our hands" and he adds that there is also a private developer who wants to put up a condo nearby. "It's time we made a move."