In the December 4 print edition of The Provost News:
• Bronze for Provost Hockey Player at National Competition
• Employment/Careers
• Pudge Says "Every time I sign on to the Internet, I get a note that says my computer is slow. If they knew how slow the operator (me) is, they wouldn't say anything."
And Lucie points out: If you're a female anywhere near my age, you'd have had a crush on Edd "Kookie" Byrnes.
• Town Librarian Retires
• Hughenden Author Lori Knutson Finishes Sequel to Young Adult Novel

• Provost Agricultural Society receives $50,000 to help pay updating restrooms, kitchen and lighting at the Agriplex. MLA for Battle River-Wainwright, Doug Griffiths brought the provincial money to Provost Ag. Society vice-president Jim Schon on behalf of the Minister of Agriculture and Rural Development Verlyn Olson. Griffiths also met with others and two of the topics he heard about included the local hospital and road maintenance issues including ice and snow on Highway 13 during the winter.
Get more stories by subscribing to The Provost News? Click here.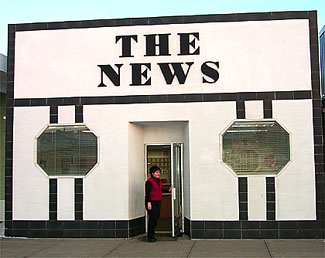 ---
Established March 10, 1910
---
This building which houses
The Provost News has been a media icon
on Provost's Main street since 1946.

---
This award winning newspaper is
owned and operated by
Holmes Publishing Co. Ltd.
Provost News
5111-50th Street
Box 180, Provost, AB, T0B 3S0, Canada
RICHARD C. HOLMES - EDITOR