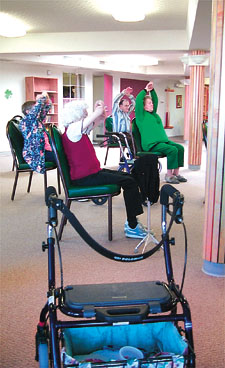 • Have Had Up to 33 People Waiting
• 20 Room Addition Being Examined

|Since the upgrade to Hillcrest Lodge in Provost two years ago the popularity of living there has jumped—and created a problem to place current applicants.

There is not enough room at the lodge for an aging population that continues to grow.

Manager of Hillcrest Lodge, Bonnie Aker says there are usually between 20 and 30 people on a waiting list and at one time 33 wanted in. But adds Aker, they have had some on the waiting list who have since died or their health deteriorated so that they had to go into a nursing home and never made it into Hillcrest Lodge.

Aker told The News in a recent interview that "The pressure is here and something has to be done."

She spends approximately 20 hours per month touring prospective residents and their families through the facility. They usually know about the long wait but hope for an opening anyway.

Chairman of the Provost Senior Citizens Home Foundation that runs Hillcrest Lodge, Tom Schneider says that "We made such a nice building (after a May 1998 fire) that it seems everyone wants to live there."

Schneider, who is also the Reeve of the M.D. 52 would like to see another 20 rooms constructed and says the M.D. 52 has agreed to pay for some preliminary costs for a study. An architect has been asked to begin drawing floor plans so estimates of costs for a new wing to the northwest and another wing to the west could be examined.

Any addition would hinge upon federal or provincial grants since leaving that type of construction costs at the municipal level would not be feasible.

"We do have the land and it would be nice to expand" says Schneider. That sentiment is echoed by Aker who deals with the population explosion on a daily basis: "We definitely need an expansion."

MLA Butch Fischer was asked by The News if he would go to bat for Hillcrest to get a substantial piece of money for such a proposal. "Sure I would, I would be glad to." He had heard some concerns about the long waiting list when he was on the recent campaign trail but adds that he would need more information first.

But he also pointed to part of the cause of the popularity of Hillcrest Lodge saying that "when you build a nice building everyone wants to be there. That's a big issue."

Other senior citizens' homes in the province are also beginning to feel added pressure for accommodation.

Fischer says that at Castor, Alberta the lodge there has tiny rooms and an upgrade is needed there. "I'm committed to that one as well." Around the province, the MLA points out the government is trying to address an increase in an aging population. "It's not easy."

When MP Kevin Sorenson was in town recently he suggested that there could be some federal money available for such an expansion.

Schneider adds that there are more requests for larger rooms so that married couples can live together.

For people wanting to get into the local lodge, there is a priority system in use. Local area residents have priority from people out of the area or out of province.

Locally, there is still a debt of $520,000 for the recent Hillcrest Lodge upgrade. The money is owed to the Town of Provost, the M.D. of Provost No. 52 and the Villages of Amisk, Czar and Hughenden with the payments being administered through tax requisitions. A loan was originally taken out to be paid off over a five year period.

Also serving on the Provost Senior Citizens Home Foundation are Ken Knox of Provost, David Symington of Hughenden, Jack Roworth for the M.D. 52, Steven Lindsay of Czar and Brad Adams of Amisk.

Meanwhile more requests by elderly people for rooms are expected this spring at Hillcrest Lodge.

Want to Subscribe to The Provost News? Click here.


© All material on this website is copyright by The Provost News, Holmes Publishing Co. Ltd., and Internet Alberta Inc.
All rights reserved. Reproduction or other use is prohibited without permission of The Provost News,
Holmes Publishing Co. Ltd., or Internet Alberta Inc.